Sr. Management Team
---
Scott Dewald
President & CEO
sdewald@reiok.org
A graduate of Oklahoma State University with a BS in Ag Communications, Scott Dewald has over 25 years of experience in agriculture and economic business development.  As President and CEO of REI Oklahoma, Scott is responsible for the day-to-day operations of the economic development organization.  In addition to his role with REI Oklahoma, Scott also serves as President of REI Development Corp, President of REI New Markets Investment, LLC and Chair of the REI Internal Loan Committee.  Scott is a Past-President of the Oklahoma Society of Association Executives, Chairman of the Oklahoma Agriculture Mediation Board, Member of the OSU College of Agriculture Dean and Vice President Search Committee, Member of OSU Dean of Agriculture's Advisory Council, and Chairman of OSU-DAC Cap and Trade Committee. In addition to his background in business, Dewald is a Leadership Oklahoma graduate and an OSU Distinguished Alumni.
Sherry Harlin
Senior Vice President of Development
sharlin@reiok.org
Harlin brings a wealth of experience to REI Oklahoma's Business Development Division.  In her 35nd year with the organization, the division under her leadership includes Housing Down Payment Assistance, Native American Business Centers, Commercial Facilities, Foreign Trade Zone #227 and REI Women's Business Center. Sherry is a Certified Economic Development Finance Professional and a Housing Development Finance Professional.  She previously served on the National Business Incubation Association Board and Chair of the Board for the Oklahoma Community Institute.
Debbie Partin
Senior Vice President of Lending
dpartin@reiok.org
Partin has been assisting Oklahoma entrepreneurs with their business lending needs since joining REI Oklahoma in 1992.  She is a Certified Economic Development Finance Professional and was awarded SBA's Financial Services Advocate of the Year award.  Debbie also serves as Executive Vice President of REI New Markets, Investment, LLC and REI Development Corp.  Additionally, she serves on the National Association of Development Companies Board of Directors as well as Vice President of the Oklahoma Association of Government Guaranteed Lenders.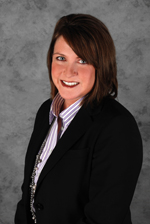 Lori Hill
Chief Financial Officer
lhill@reiok.org
Lori Hill, a licensed CPA, earned her MBA in 2002, and has more than 18 years of non-profit accounting experience.  In addition to her responsibilities related to financial statement preparation, Lori is responsible for management of the marketing and administrative areas.  Lori also serves as Treasurer of REI New Markets Investment, LLC, Secretary/Treasurer of REI Development Corp., is Secretary/Treasurer of the Boys and Girls Club of Durant and Treasurer of the Durant Education Service Sorority.