Dream BIG Oklahoma
---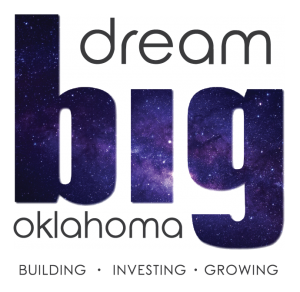 Dream Big Oklahoma is a collaborative effort of REI Oklahoma and other leading economic development organizations committed to building, investing in and growing Oklahoma. With the help of sponsors and supporters who make the event possible, the event recognizes and celebrates  those who dream big by not being afraid to build lives, innovate programs and grow our economy.
HERE'S A LOOK AT OUR 2018 AWARD WINNERS:
(click pictures for video clips)
REI Women's Business Center Client of the Year
Laura Ransbottom
In 2009, Laura Ransbottom and husband Jim purchased PF Unlimited from its principal owners, although they have worked in the business for more than 30 years. Based in Tulsa, PF Unlimited specializes in commercial printing, business forms printing, print procurement, and managed business printing services. Spanning a half-century, their experience in and knowledge of the commercial printing and business forms printing industry makes a critical bottom line difference for their clients every day. From production of a specific single-run print project to auditing and managing their client's aggregate print inventory, PF Unlimited delivers customized business printing solutions as part of a comprehensive print procurement and printing management process.
REI Women's Business Center Partner of the Year
AARP Oklahoma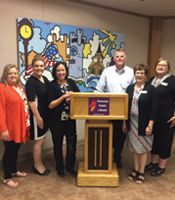 Enhancing the quality of life for all as we age—not just serving their nearly 38 million members—is the mission of AARP Oklahoma. At its heart, the work that AARP and its affiliates do can be summed up in just 12 words: "We fight for and equip each individual to live their best life." It's all about real possibilities.
Since its inception in 1958, AARP has grown and changed dramatically in response to societal changes, while remaining true to its founding principles.
REI Native American Business Center Access To Capital Award
Mvskoke Loan Fund

Mvskoke Loan Fund is a non-profit corporation and certified as a Community Development Financial Institution (CDFI).
Their primary services are providing business loans to Muscogee (Creek) Nation citizens throughout the state of Oklahoma and enrolled members of federally recognized tribes residing in MCN jurisdictional boundaries.
Mvskoke Loan Fund helps take an idea and develop it into a full business plan, including needed financial documents. They offer services to help clients understand personal and business credit reporting and advise on methods to improve credit scores. They also assist with client budgeting, financial literacy and tax preparation.
REI Native American Business Center Veteran Firm of the Year
NewGold, LLC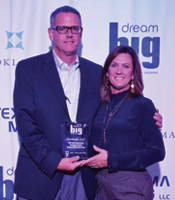 NewGold, LLC is a Native owned and Service-Disabled Veteran-Owned Small Business (SDVOSB) in Edmond, OK. They provide services and solutions to the Federal Government in multiple industries. Industries served include construction, technology, healthcare, and energy, or any other industry in which the Government needs problems solved.
They give their customer more than they expect, faster than scheduled, at pricing that reflects integrity in business.
REI Native American Business Center Partner of the Year
American Indian Chamber of Commerce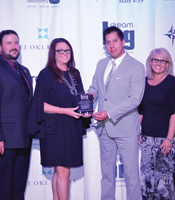 The goal of the American Indian Chamber of Commerce of Oklahoma (AICCO) is to build resources in education and training for Native owned businesses and to provide their members with the training to cultivate their business skills and to also provide a better understanding of issues facing American Indian business owners. AICCO is dedicated to being a voice for Native American owned businesses to state, national and tribal legislators. AICCO is also focused on advocating for the growth of economic development with all Native American owned businesses by developing collaborative opportunities to grow successful economic development in Native American communities.
REI Native American Business Center Veteran Firm of the Year
Contech, Inc.

Contech, Inc., has played a major role in the concrete work of the Gathering Place for Tulsa. Featuring bike paths, world-class play areas, water features and more, it is sure to bring enjoyment to Oklahomans for years to come. Located on more than 100 acres along Tulsa's riverfront, the George Kaiser Family Foundation has served as the driving force to make the project possible, with many other donors and supporters along the way. It is estimated that at least 1 million park-goers will visit annually.
Bobby Thompson, VP of Contech and his team have performed a great deal of work on the project, pouring around 30,000 yards of concrete in total. From constructing buildings and parking lots, to working on the widely-seen exposed aggregate walkways, the multi-year, multi-million dollar contract has allowed Contech to utilize at least 60 employees for the project.
REI Business Lending 504 Borrower of the Year
Ferguson Animal Health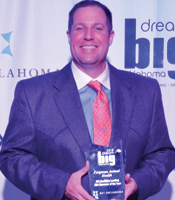 Ferguson Animal Health is a full service veterinary hospital that was established in Calera, Oklahoma during March 2010 by veterinarian Joe B. Ferguson, D.V.M. Providing all types of animal health services from routine office visits to farm calls, Dr. Ferguson is a graduate of Oklahoma State University, where he earned his Doctor of Veterinary Medicine designation.
Through the partnership of First United Bank and Trust, REI Business Lending and the SBA 504 lending program, Dr. Joe Ferguson was able to purchase 10 acres of land and construct an 8,000 sq. ft. facility to accommodate his new business. The facility includes 900 sq. ft. of open pens for boarding.
REI Business Lending Direct Borrower of the Year
The Homesteader's Finest
Every jar of The Homesteader's Finest is made with farm-fresh ingredients. They grow much of the produce, or partner with fellow farmers. Until recently you could only buy their craft jams and sauces at farmers' markets and roadside stands, but now The Homesteader's Finest is available in a store near you.
The mission of The Homesteader's Finest is to always use the freshest ingredients—organic when possible—and promote a clean lifestyle.
REI Down Payment Mortgage Lender of the Year
Supreme Lending

Established in 1999, Supreme Lending is a full service mortgage lender with licenses in all 50 states and branches throughout the U.S. Now with thousands of employees across the country, Supreme Lending is a fast-growing company that continues to add new branches thanks to their "customer-comes-first" approach which helps homebuyers realize their dreams of homeownership.
REI Housing Partners of the Year
BancFirst & USDA Rural Development

REI Oklahoma in partnership with BancFirst and USDA Rural Development offers a housing program, providing families with up to $5,000 toward down payment and closing costs to qualified first-time homebuyers for the purchase of a home.
BancFirst Mortgage has created a dynamic and comprehensive lending program to enhance home ownership in communities across Oklahoma. Their mission is a simple one: Placing people in homes, thereby helping to create the legacy and core values that are associated with home ownership.
USDA has innovative partnerships for self-help housing, and packagers to promote homeownership in underserved areas, and they also work with potential homeowners to navigate the homebuying process. USDA also offers loans for site infrastructure, home repairs, and grants to elderly homeowners for accessibility, health, and safety hazards.
Dr. Fern Green-Bowling Diamond Award
Kathy Robinson

For some, education is a profession, but for most teachers it is a calling. As a child, Kathy Robinson consistently desired to be only two things when she grew up – somebody's mother and everybody's teacher. As a classroom instructor, Title 1 teacher, gifted and talented director, technology coordinator and the various other positions Kathy held; she personally saw the power technology has to change lives of the learners.
After teaching nine years in the public school system, Kathy Robinson decided to offer her proven methods to other schools. Schoolware, Inc. was founded in 1999, and since then, the staff at Schoolware, Inc. have witnessed the potential impact of technology within many educational systems.
Dream BIG Award
Oklahoma Association of Electric Cooperatives

In a cooperative effort to increase access to electricity in developing nations, the Oklahoma Association of Electric Cooperatives (OAEC) has partnered with NRECA International, the philanthropic arm for the National Rural Electric Cooperative Association (NRECA), to electrify a poverty-stricken village in rural Guatemala. A team of 13 co-op linemen, electricians and engineers spent three weeks building power lines and wiring homes for first-time electricity.
Energy Trails, an electrification project made possible through a partnership between the Oklahoma Association of Electric Cooperatives (OAEC) and the Association of Missouri Electric Cooperatives (AMEC) is another wonderful project designed to give back. The project took place in northern Bolivia and brought electricity to two villages, El Torito & Dos de Junio. The local electric cooperative, Cooperativa Electrica Riberalta (CER), assisted volunteer linemen on the completion of this project.
Texoma Manufacturing Vision Award
Hobby Lobby

The Vision Award recognizes an Oklahoma company that has a long and successful track record of building up Oklahoma's economy transitioning their visions into realities.
David Green, founder and CEO of Hobby Lobby has built a company with more than 800 stores, sales of more than $4.5 Billion and 35,000 employees.
What began as a $600 start-up, continues to grow and expand–enabling customers across the nation to live a creative life®. In 1970, David and Barbara Green took out a $600 loan to begin making miniature picture frames out of their home. Two years later, the fledgling enterprise opened a 300-square-foot store in Oklahoma City, and Hobby Lobby was born. Today, Hobby Lobby is the largest privately owned arts-and-crafts retailer in the world.
Mr. Green chose to build and keep the Hobby Lobby headquarters in Oklahoma with more than 10 million square feet of manufacturing, distribution, and office complex in Oklahoma City. Affiliated companies include Hemispheres fine furnishing stores as well as Mardels, a popular Christian office and educational supply chain. The Green family is known for its active involvement at their church and in many Christian ministries and charities.
We look forward to building on the success of Dream Big Oklahoma as we continue to celebrate and recognize the "best of the best" in Oklahoma.  For sponsorship and event information, contact Tim Patton at 800.658.2823 or dreambigok@reiok.org.