Matching Gifts
---
Multiply the Impact of Your Donation
Did you know that you can double your donation to REI Oklahoma through our matching donation program?
Many employers provide matching gift programs to match charitable contributions made by their employees. Gifts from employees' spouses and retirees might also qualify for a match. Search to find out if your employer has a matching gift program.
Simply type your company name in the search bar below to find out if they will match your gift to REI Oklahoma.
MatchingGift
and
Volunteer Grant
information provided by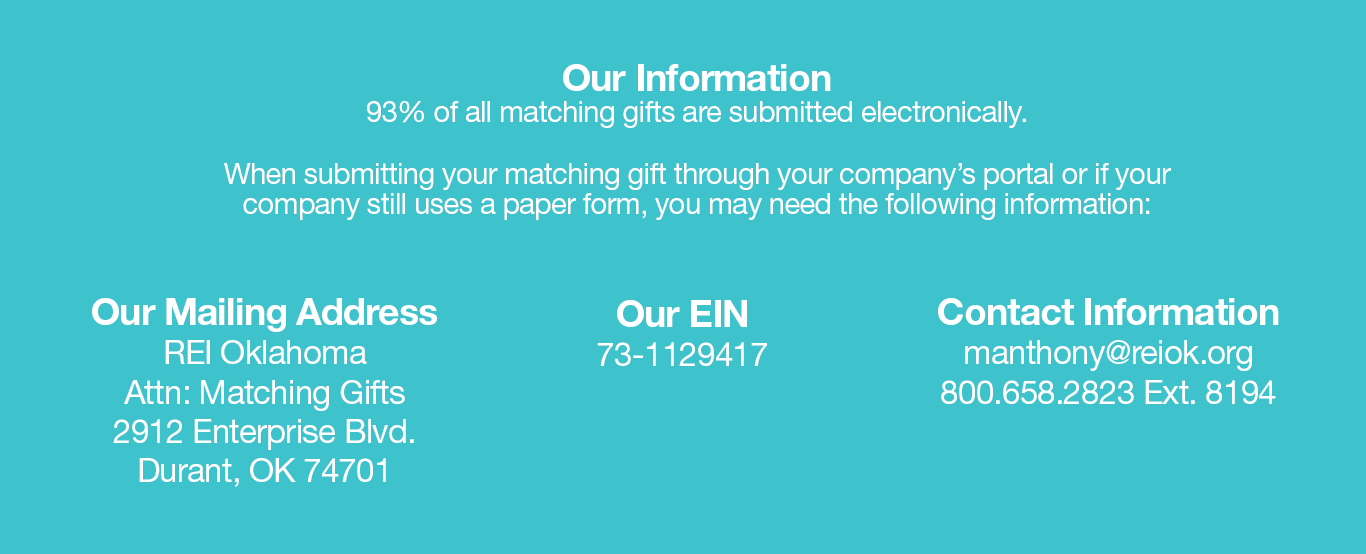 FAQs
What is a matching gift?

Employee matching gift programs are corporate giving programs. Here's an example:
Let's say you work for General Electric and donate $100 to REI Oklahoma. General Electric's matching gift policy has a minimum gift requirement of $25 and matches at a 1:1 ratio. After you submit your matching gift form, GE will double your donation by also writing a check for $100. Gifts from employees' spouses and retirees may also qualify for a match.
It's a quick and easy way to double your contribution!
Search above to see if your company will match your gift and find everything you need to apply.
How do I request a matching gift?

1. Donate
Make your personal donation and save your tax receipt. Many matching programs will allow for up to one year after you've made your donation to request a corporate match.
2. Search
Using the search bar above, find out if your company offers a matching gift program and review the guidelines. No results? Contact your HR department directly to ask if they offer a matching gift program.
3. Match
There are two common ways to submit the matching gift request:
1. Click on your company's intranet link provided in the search results. Log-in and submit your request electronically.
2. Download your company's matching gift verification form using the link provided in the search results. Print it, fill it out and send it to us – we will take care of the rest!
I made a donation a few months ago. Can I still apply for a matching gift?

Yes! It's not too late to apply for a matching gift! Many companies allow employees to submit match requests for 1 year following the date of the donation.
I didn't find my company on the search page. Now what?

It's still possible that your employer will match your donation, even if you don't find your company on our list. Check with your company's HR manager and ask if your donation can be matched.
Can my company's matching gift be applied to a participant, team, or event?

Absolutely! Matching gifts are a great opportunity to boost participants' fundraising totals.
How is this information obtained?

We partner with a company called Double the Donation. If you see anything that should be changed, please email Double the Donation's team at data@doublethedonation.com.
What if I still have questions?

For questions regarding your company's program policies, please contact your employer's HR department. Much of the necessary information is also available on your company intranet. For questions regarding obtaining a tax receipt, submitting and verifying a matching gift request or a volunteer grant please contact us at manthony@reiok.org or call 800.658.2823.
Thank you for your interest in company matching gifts!