Commercial Space
---
We have commercial business space available for accommodating many types of start-up or expanding businesses from smaller, customizable office space to larger warehouse or manufacturing space. REI Oklahoma provides business assistance to reduce the risk of failure and help develop businesses into wealth generating and job creating entities.
Benefits For Tenants:
Consistent business assistance
Publicity in news releases, social media, etc.
REI Oklahoma Commercial Kitchen – Our commercial kitchen provides food-related businesses a home to prepare, process and package their product. The facility is located in Durant.
LEED Silver Building  – We operate a LEED Silver building located in Durant and the first one in southern Oklahoma. LEED is an acronym for Leadership in Energy and Environmental Design, an internationally recognized certification program of the U.S. Green Building Council that rates projects in specific areas to satisfy green building requirements.
Commercial Space Locations in Durant, OK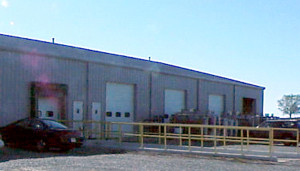 Location: 2912 Enterprise Dr., Suite A1
Area (sq. ft.): 10,000
Facility Features: Warehouse space, restrooms, overhead doors, fenced parking
Available for Lease: No – Currently Occupied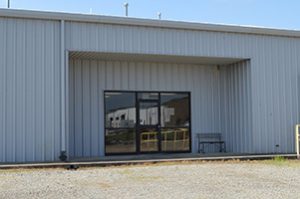 Location: 2912 Enterprise Dr., Suite A2
Area (sq. ft.): 1,500
Facility Features: Open office space with small break room and restrooms
Available for Lease: No – Currently Occupied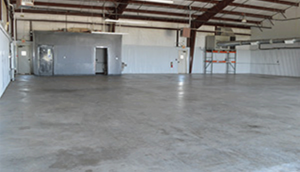 Location: 2912 Enterprise Dr., Suite A3
Area (sq. ft.): 6,000
Facility Features: Warehouse space, restrooms, overhead doors, fenced parking
Available for Lease: No – Currently Occupied
Location: 2912 Enterprise Dr., Suite A4
Area (sq. ft.): 1,000
Facility Features: Open Office space and restrooms
Available for Lease: No – Currently Occupied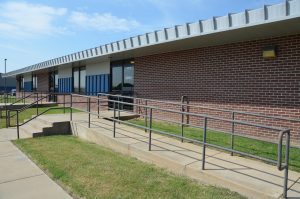 Location: 2912 Enterprise Dr., Suite B
Area (sq. ft.): 2,200
Facility Features: Open Office space and restrooms
Available for Lease: Yes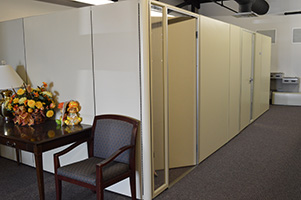 Location: 2912 Enterprise Dr., Suite C
Area (sq. ft.): 2,200
Facility Features: Shared Office Space with 4 cubicle suites ranging from 120 – 300 sq. ft. and shared restrooms
Available for Lease: No – All Cubicle Suites Currently Occupied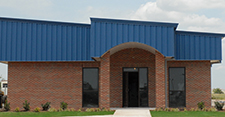 Location: 2912 Enterprise Dr., Suite D
Area (sq. ft.): 2,500
Facility Features: Commercial kitchen with oven, range, tilting brazing pan, deep fryer, griddle, tilting kettle, food processor, peeler, microwave, slicer, ice machine, wash sinks, work tables, reach in refrigerator & freezer, walk in refrigerator & freezer, offices, restrooms, washroom, parking, truck access.
Available for Lease: No – Currently Occupied
Location: 3588 Tom Smith Road
Area (sq. ft.): 10,000
Facility Features: This is a LEED Silver certified building. It features energy efficient building systems, sustainable building materials, a metal roof, high efficiency plumbing, water efficient landscaping, recycled building materials and low-VOC paints, sealants, adhesives and carpets were used in the construction of the building. Offices, video conferencing, restrooms, handicapped parking, and spacious parking.
Available for Lease: No – Currently Occupied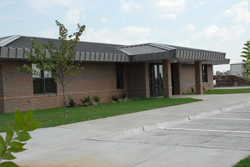 Location: 3010 Enterprise Dr.
Area (sq. ft.): 15,000
Facility Features: Commercial/Industrial Facility – 10,000 sq ft of warehouse space. 5,000 sq ft of office space with multiple offices and open area for conferences/meetings or cubicles. A spacious parking lot and fenced loading docks.
Available for Lease: No – Currently Occupied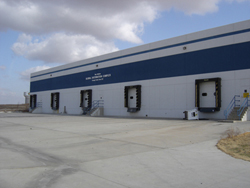 Location: 3408 Wes Watkins
Area (sq. ft.): 30,350
Facility Features: Commercial/Industrial Facility, Tilt Up Construction, 1,500 sq. ft. existing office space, HVAC Ventilation, 22 ft. to ceiling joists, 5 truck docks with overhead doors (10×12), Automatic fire sprinkler system, High pressure lighting within, Paved truck docking & parking. Other features include paved access road, 28 foot sidewall, flat roof and 3,000# concrete slab
Available for Lease: No – Currently Occupied
Commercial Space Locations in Oklahoma City, OK