Peggy's smile lights up the room when she says she has always wanted to own a restaurant. As a young girl, she even asked her (now late) father to help her start one.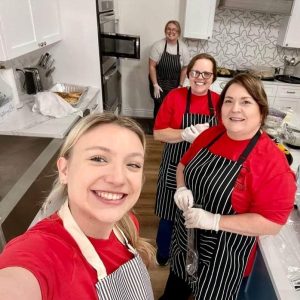 "My daddy said it wouldn't be a good investment because I would just give all the food away," said Peggy. Well, her father was half-right on his initial assessment. She is now the proud owner of She Shed Bistro and is growing her business. Their tagline is "Little place with a big taste."
Peggy's journey to being a small business owner is a bit unconventional, like many other small business start-up stories.
She had worked for more than 25 years for the State of Oklahoma's Vocational Rehabilitation Services.
Peggy shared, "I have always loved cooking and taking care of people. I love serving in this way."
Once she left her position with the State of Oklahoma, she went to work in Oklahoma's energy sector. It was not long before people realized the extra benefit of having Peggy on your team – her culinary skills. Peggy talked about a time that the company she worked for had their yearly Town Hall Meeting and asked her office to provide the food – she, along with some of the guys she worked with, took on the task. "We fed 40-60 people at these events," said Peggy.
Unfortunately, Peggy hit a rough spot in her life. Her father passed away unexpectedly, then she lost her job two months later. Both were gut-wrenching and life-changing. She decided to take some time to reflect on what she would like to do next. Peggy knew she still needed to work and bring in income, but what would that look like. While she was contemplating what her next step would be, her grown children knew. They told her it was time to quit dreaming and take action – it was time to open her own restaurant.
"It was July 2020, and I had no idea where to start," said Peggy. "I began reaching out to programs and resources in my area; more often than not, I never heard back from them. I was so discouraged."
She then remembered tha
t when she worked for the Department of Rehabilitation, Kiamichi Technology Center had assisted her clients with Business Plans. She went to their web page, found the REI Oklahoma link, and enrolled in one of their Zoom classes about "How to Start a Small Business."
Finding a location for her business was difficult. She looked at multiple locations, and it took until February 2021 to find the perfect spot. Peggy then took on the task of determining the right type of building design that would not only meet their needs but be completed on time and fit within the budget.
She began attending trainings hosted by the Women's Business Center (WBC), a program of REI Oklahoma. While she had hoped to work with REI Oklahoma's Business Lending program, her local bank was a better fit for her needs and timeframe. The trainings and seminars she attended through the WBC helped guide her, and she soon reached out to start having personal consultation sessions with REI Oklahoma's WBC team members. With their guidance and support, she began finalizing the plan to put a dream she always had into the last action steps needed to launch.
"Leslie and I just clicked. She encouraged me to start a Facebook page months before I was ready to open, telling me to let people know what was happening and ask for their input," Peggy shared. "She helped me with so much paperwork, which at times was a little overwhelming, but she was so encouraging and let me know that we could get it done! She told me from the beginning that I could do this; she just knew it."
"The team even helped me finalize She Shed Bistro's name," Peggy said. "We had it down to three names but were undecided."
She Shed Bistro's first day of business was June 16, 2022. Peggy laughed and said, "We ran out of food that first day!"
When asked where her recipes come from, Peggy shared that many are from the church ladies in various congregations she was involved with, from Wilburton to Enterprise to Stigler. She has her own creations as well.
"My dad was a Baptist Preacher, so we went to church and revivals a lot, and everyone  knows Baptists love their potlucks," laughed Peggy. She has her own creations as well. "There is a lot of love in those recipes," Peggy stated.
She Shed Bistro is a drive-thru restaurant with lines from 11am – 2:00pm, Monday – Friday. They are always busy and almost always sell out. The pepper steak, jalapeno bread and homemade cakes are fan favorites. When there are leftovers or when she intentionally sets a few meals back, Peggy and the other ladies deliver them to their elderly friends.
"My daddy was right," Peggy said with a grin. "I do love to give food away."
When asked what advice she would give someone else thinking about starting their own business, Peggy said, "As a single person, I thought I had to have an 8am to 5pm job until I was making real money from my business, but I didn't. Working with the team at REI Oklahoma can help you overcome the roadblocks and navigate the transitions to help you get to where you need to be to launch your business."
She continued, "Don't give u
p; work hard and pray, pray, pray some more."
When asked what she wanted to share with those who support the mission of REI Oklahoma, Peggy stated, "I went from being lost, not knowing what to do, to making my dreams come true."
"I also want to thank the team at REI Oklahoma, my children, my pastor and his wife, and all those that encouraged me along the way…I did it!"
"Working with the team at REI Oklahoma can help you overcome the roadblocks and navigate the transitions to help you get to where you need to be to launch your business."
Peggy Elizabeth Reinhardt, Owner
She Shed Bistro
517 E Main St
Wilburton, OK 74578
She Shed Bistro Facebook Page
Hours: Monday – Friday, 11:00 a.m. to 2:00 p.m.
Updates to hours are shared on She Shed Bistro Facebook page.
A drive thru bistro offering daily specials of sandwiches, salads, soups and other specialty items. No inside seating, but outdoor seating is available. Drive thru only.